Latest News
19th April 2018
Education Today cover Springwell Leeds Academy, Wellspring Trust and Leeds City Council story as it opens another of its trio of new schools for children with special educational needs.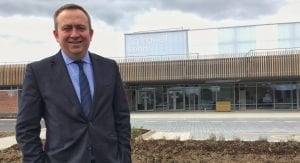 Springwell Leeds South at Middleton will serve 100 youngsters aged 11-16. In January, a sister site Springwell Leeds East opened at Seacroft and in September, a further site serving the north of the city will open at Tinshill.
The schools will operate, together with an already opened school at Oakwood, as Springwell Leeds Academy which manages care and education for children with Social, Emotional and Mental Health (SEMH) needs between the ages of five and 16.